NSPECon 2023 Offers Opportunities to Connect and Network
First-Time Attendee Mixer (invitation only)
Wednesday, August 2 – 5:00-6:00 pm
This meet and greet is designed to help new NSPE members and first-time conference attendees learn how to make the most out of all the conference has to offer. All first-time attendees will receive an invitation to join this special networking reception to mingle with NSPE leadership, learn what to expect and the best ways to maximize their experience.
Opening Reception - PE Day & All Things Louisville
Thursday, August 2 – 6:00-7:30 pm
Join this celebration of all things Louisville including local food and entertainment. The reception includes heavy Louisville-themed hors d'oeuvres and each attendee will receive one drink ticket.
2023-2024 NSPE President
William Atkinson, P.E., F.NSPE
Recognition and Installation Luncheon - August 3
Thursday, August 3 – 12:15 – 1:45 pm
The NSPE Board of Directors invite you to celebrate the installation of our eighty-fifth President, William (Bill) Atkinson, P.E., F.NSPE and the 2023-2024 board members. During the luncheon, the 2023 NSPE Award winners and 2023 Class of NSPE Fellows will be recognized. There will also be an opportunity to thank 2022-2023 President, Britt E. Smith, P.E., F.NSPE and the outgoing board members for their service.
Order of the Engineer Installation Ceremony
Thursday, August 3 – 5:00-5:30 pm
The Order of the Engineer is a solemn obligation to oneself to uphold devotion to the standards and the dignity of the engineering profession. An induction ceremony will be held at NSPECon 2023.  Attendees can choose to participate when they register.  Pricing includes participation in the ceremony and the stainless steel ring that serves as a reminder of the engineer's obligation to society. 
Celebrate Licensure and the Profession on PE Day
Wednesday, August 2 – ALL DAY
All attendees are invited to celebrate the seventh annual Professional Engineers Day in person at the conference. The first professional engineering license was issued to Charles Bellamy on August 8, 1907 in Wyoming. Since that time, licensure has expanded and professional engineers across the U.S. and internationally make the commitment to protect the public health safety and welfare. 
Share your on-site photos and selfies as part of the online virtual event using the hashtag #LicensedPEday on Twitter, Facebook, Instagram or LinkedIn. Share your reasons for being a PE and give special recognition to your colleagues and teams. 
Prepare for the celebration and gear up by visiting the new PE Day Logo Store. The shop features a variety of items including many styles of t-shirts and accessories such as mugs, notebooks, tote bags, wall prints and, even phone cases.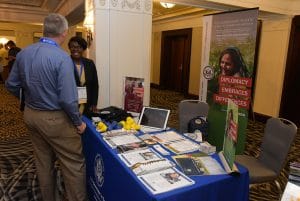 Wednesday, August 2 – 6:00 pm – 7:30 pm and Thursday, August 3 – 9:30 am – 3:30 pm
Visit with companies and organizations who have solutions for your firm and clients and can help you overcome challenges. 
Take advantage of Networking Breaks
Thursday and Friday
Take time to recharge and visit colleagues during networking and refreshment breaks throughout the conference. 
Conference evenings are free Thursday and Friday. Take some time to review the Things to Do page to see what you and your family can plan for your trip to Louisville. There are many local restaurants that would love to host you and a group of your friends.